The film, Matrix is officially renewed for the fourth part. Matrix 4 is an upcoming American origin film, created by Lana Wachowski. Besides, it is produced by Grant Hill under the joint production of Warner Brothers Pictures & Village Roadshow Pictures. It is an action & science-fiction movie. Firstly, Matrix was released on March 31, 1999, followed by the rest of the seasons. Moreover, 3 parts of the movie are yet released.
Not only the star of The Matrix 4 Keanu Reeves returned to Berlin. But also his co-stars Neil Patrick Harris & Carrie-Anne Moss reached Berlin to continue with the filming. The actor Keanu Reeves was accompanied by his girlfriend Alexandra Grant to Berlin. To resume the filming of his upcoming movie The Matrix 4. Though the couple has a hectic schedule, however, they were spotted spending a happy time.
The 47-year old John Wick actor Keanu was in black attire. In addition, he had a red cap on his head. However, his 55-year old artistic girlfriend Alexandra was in black leggings & a black jacket. In addition, she had a white scarf around her neck.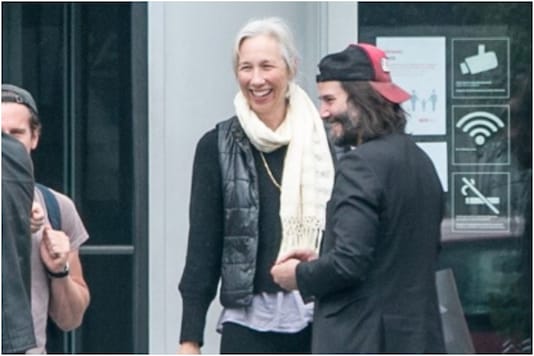 Expected release of The Matrix 4
The Matrix 4 was scheduled to be premiered on May 21, 2021. Since the filming of the movie began in the month of January 2020. Yet, due to the ongoing global pandemic COVID-19, the filming was temporarily stopped to avoid the spread of the virus. However, the shooting is started again in some parts of the country including Berlin. therefore, the movie is now scheduled to be premiered on April 1, 2022.
Expected reason for the delay?
The film, Matrix 4 is officially delayed. The most accurate reason for the delay in the premiere date is due to the Novel Coronavirus. This ongoing pandemic delayed the premiere of many shows. But the creators of the show rescheduled the release date with a good time margin in order to complete the filming.
The expected cast of the movie
The stars in the lead role are-
Keanu Reeves as Neo
Jada Pinky Smith as Niobe
Lambert Wilson as The Merovingian
Carrie-Anne Moss as Trinity
Additionally, the movie has stars like
Andrew Caldwell
Yahya Abdul-Mateen
Jessica Henwick
Priyanka Chopra
Jonathan Groff
Ellen Hollman
Neil Patrick Harris
Max Riemelt
Brian J. Smith
Toby Onwumere
Ellen Hollman
Erendira Ibarra
The role of these stars are yet not revealed and is a surprise to the audience.
For further updates, Stay Tuned With The Scuttle Paper.