To begin with, the 25-year-old model Gigi Hadid and musician Zayn Malik are expecting their first baby together soon. Besides, the model, Gigi shared some photos of photoshoot during her pregnancy.
However, Gigi Hadid displayed her pregnant stomach for the first time during an Instagram Livestream. Moreover, Gigi Hadid and Zayn Malik are expecting their baby in the month of September.
Major details about the photoshoot
To begin with, Gigi Hadid's pregnancy news made the fans amazed. They considered it as one of the best things that happened to them this year 2020.
Moreover, Gigi recently shared a few of her gorgeous photos. However, this was a black and white pregnancy photoshoot. Moreover, Gigi was looking breathtaking in her flowy white outfits. Besides, her hair was slightly crimped. She had minimum makeup as she could. During the photoshoot, Gigi showed off her baby bump. However, among all the photos posted. In one, she had her hair slicked back along with her white gown, which was wet and sticking to her form. It made a subtle smokey eye completing her look.
People involved in the photoshoot
Gigi's latest photoshoot was done by the duo of fashion photographers, named Luigi and Iango.
Moreover, Erin Parsons did Gigi's makeup for the photoshoot.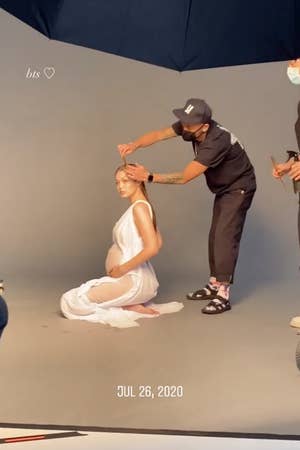 People's reaction 
After the photoshoot, when the photos were posted, Model Ashley Graham commented on one of the posts. The comment read: "This is one of the best feelings one can feel in the world! Congratulations beauty!"
Besides, Erin Parsons, the makeup artist commented saying: "I will try my best that I do not get all mushy here. Besides, I cherish this moment and I feel very honored to be a part of it. I'm very thrilled to see you (Gigi) become a beautiful momma."
Moreover, Garage magazine's fashion director. Named Gabriella Karefa-Johnson, also shared a photo from the shoot. Gabriella captioned the photo with: "An angel growing another angel. This day is soo good. Besides, there is so much love in this room."
Moreover, Karlie Kloss also wrote, "Absolutely stunning." Furthermore, Victoria's Secret Angel Adriana Lima commented, "Gorgeous mama you are".
Moreover, Gigi's younger brother's girlfriend, that is Anwar's girlfriend, Dua Lipa commented, "I'm crying!!!!!!!!! You are the best & most beautiful mama ever."
Major details about the news
After the model, Gigi Hadid and musician Zayn Malik got back together. Rumors were spread of them, expecting their first child soon. The rumors broke in April 2020. However, Gigi's mother, Yolanda was the one who later confirmed the news in an interview. Yolanda revealed of being shocked after knowing that their secret. And as it was leaked to the press. However, I was very happy." Yolanda further added saying: "Obviously we all are excited."
Moreover, the 25-years-old model, Gigi herself confirmed the news. She revealed it in a show. She wanted it to announce on their own. However, she (Gigi) is very happy and excited. Besides, she is very grateful for all the well-wishes." Gigi considered the pregnancy in the lockdown as a nice silver lining. As they were at home, together.